Cupid Media, a company that runs over thirty dating websites, created BBWCupid in 2005. The goal is to enable singles from any part of the world to meet. This service focuses on big people.
BBWCupid is determined to assist users in meeting the right partner no matter where they live. Most people on this website are from Australia, the UK, and the US. Users can register and build a profile free of charge. After signing up, you will become part of a team of like-minded users interested in marriage and friendship.
The BBWCupid site connects big, good-looking females to men who want a serious affair. This place is dedicated to providing a place where BBW singles from any location can show off themselves and attract others. This platform strongly condemns body-shaming and discrimination.
The service is well-known for its detailed accounts. It offers a fantastic opportunity for its members to meet their life-long partners, giving many options for both free and paid users. BBWCupid is a paid platform that helps big people meet each other. It guarantees to provide love, matchmaking, and lasting affairs. The platform has both desktop and mobile versions. The latter is compatible with Android and iOS gadgets. Also it is good for BHM dating.
Though it focuses on plus-sized individuals, it is possible to meet average-bodied people who are interested in communicating with big men and women. Most site users are middle-aged, and the female members fall between twenty-five and thirty-four years.
To join this website, a user has to be a straight male or female. The BBWCupid matchmaking platform does not offer more genders. Members can check what other people are doing, especially the matches that appear on their activity tab. This tab is often cluttered since they keep receiving likes, views, and messages.
Continue reading this review to see whether BBWCupid's claims are valid and if it is worth joining.
How Does BBWCupid Work?
BBWCupid has a slide show that shows people where to start once they get in. After registering, users look for matches. This platform provides free search tools to look for potential partners. It offers advanced filters; you can use them as per your liking. Visitors may send instant messages to each other, and they will pop up on the screen. There is also a chat room.
In the profile section, BBWCupid provides all the possible details a user may want to know about another participant. These include hair type, eye color, and more. Members can additionally tell if a person suits them based on how he/she replied to the questions asked during registration. It helps a lot in finding a suitable partner.
There are several methods of interaction on the BBWCupid matchmaking platform. People can write texts to others, provided they have a paid account. You must have a premium membership if you want to write to a free visitor. Also, if, for any reason, users don't wish to interact with someone on this site, they may block him/her.
By checking out the profiles, you can tell whether you like a person or not. When someone is sure that he/she should get in touch with the account owner, they can send a text, instant message, or even push the Send Interest button. The latter is the same as the Like button found in most similar online dating platforms. Once a user sends the interest, the recipient will get a notification.
To ensure safety, BBWCupid's users can block people using the corresponding option on one's page. Most of the issues that people are likely to encounter here have something to do with rudeness and body shaming. However, it is also common for other dating services.
BBWCupid has some remarkable features that improve the interaction between its participants.
This tool translates and texts into a user's native language.
It lets people appear at the top of the search results.
This one allows you to add more details to their profile pages.
Registration — Is It Really Easy?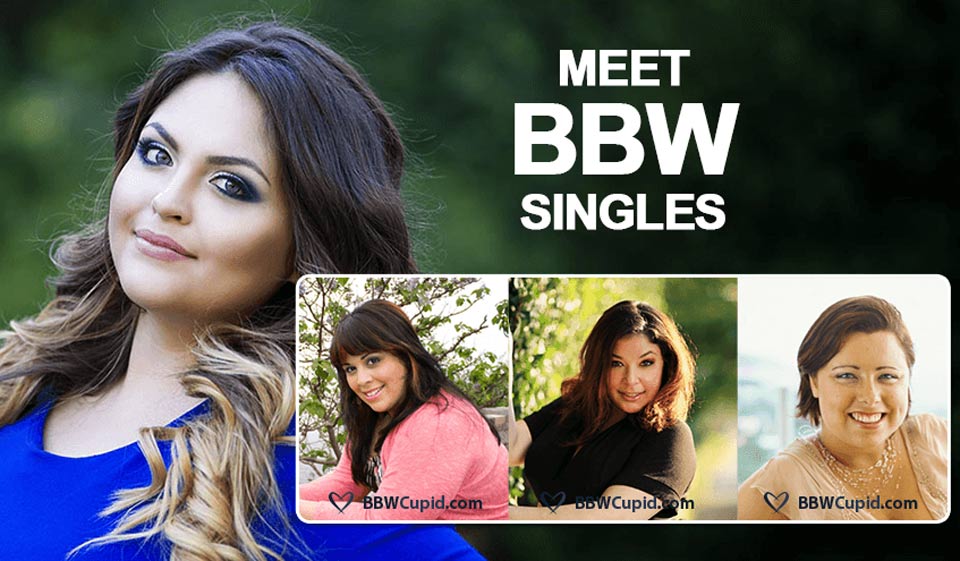 When registering at BBWCupid, visitors must answer personality test questions. The personality test is fun and aimed to provide more compatible partners. BBWCupid must verify all the profile photos. In this way, the platform guarantees that the community consists of real people.
The registration does not take more than three minutes. The process is user-friendly, and one gets matches immediately after entering the website. It doesn't differ from most other dating services. The site requires users to provide their name, gender, and email address. After specifying these details, they can choose the profile headline, personality, and the person they are searching for.
BBWCupid's users are also required to provide some personal data about themselves regarding lifestyle, appearance, and cultural views. The unique thing about this matchmaking platform is that people are asked to precisely mention why they are registered here. For example, some are interested in making friends or pen pals, and others want serious romantic partners.
What About Design and Usability?
BBWCupid has a simple design. The profile section has so many details but still looks organized. Members can find any information quickly. The navigation is pretty intuitive; it seems that people of all ages won't have any problems with locating this or that section.
Let's Talk About Profile Quality
Using a profile overview, visitors can tell if they are compatible with others. This platform has detailed accounts. It's possible to edit the content of your page anytime if needed. All members can view profile photos and add albums later.
Since all pages have more than enough data, people can easily find their perfect matches on BBWCupid. This site also offers a matching criterion where members look through the character traits they are searching for in a potential partner (mindset, lifestyle, and appearance).
Visitors gladly share many details about themselves since the registration process is properly arranged. The platform has made all the questions enjoyable to reply to, and they have split them well into 4 sections.
Besides likes and hobbies, all BBWCupid accounts contain crucial information regarding one's preferences. This includes what kind of person you want to meet, preferred gender and age, and where they would like him/her to be from. Such details make the intentions of other people clear.
The Mobile Application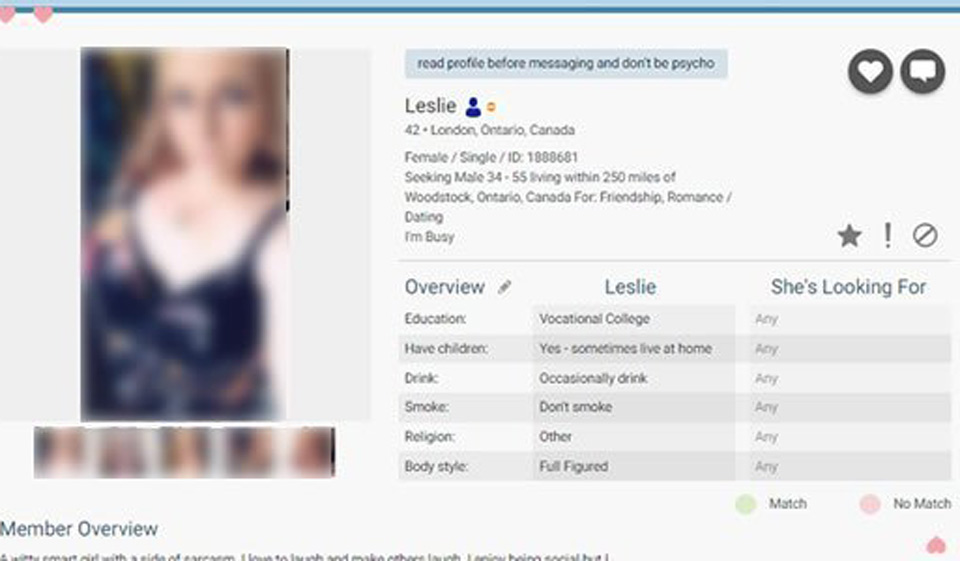 BBWCupid provides a mobile application with a simple design. Everything offered on the PC website is available on the phone application as well. Users need not pay to download it. There are two separate programs for Android and iOS users; however, they are pretty much the same. The interface may not be so attractive, but its features are friendly and highly engaging. The phone app is simple to navigate, and members may take photos and post them from their gadgets. Besides that, Apple provides in-app purchases to anyone who wants to unlock some mobile features.
Beware that even on phones, they ensure users' safety. Therefore, they take precautions restricting malicious activities and inappropriate content. Fake accounts get banned immediately.
Safety & Security
The BBWCupid website takes the safety of the users seriously. The platform has an effective fraud prevention group. It consists of well-trained experts who use the best tools to maintain a healthy environment. The site also has a well-thought-out page that provides safety tips. Users can report suspicious individuals easily.
Pricing and Benefits
BBWCupid free visitors can enjoy the following:
Sending texts to users with premium accounts
Liking other profiles
Adding people to their favorite list
Checking who is interested in them
Searching for matches
Viewing photos of others
Premium users can avail of:
Sending texts to free users
Chatting live through instant messenger
Profile highlighting
Translating texts
The BBWCupid service cost is as below:
Gold Membership
One month: 24.98 dollars
Three months: 16.66 dollars per month, 49.98 dollars in total
Twelve months: 8.33 dollars per month, 99.96 dollars in total
Platinum Membership
One month: 29.98 dollars
Three months: 20.00 dollars per month, 60.00 dollars in total
Twelve months: 10.00 dollars per month, 120.00 dollars in total
BBWCupid accepts credit cards. Newcomers can join free of charge and take advantage of some features. Users who wish to enjoy extra perks should subscribe.
The plans and pricing can be found in the Upgrade section of the website. The prices are likely to change, and BBWCupid often updates them. It also offers free trials and other promotions that enable people to access functionality. All the incentives must be used within the specified time frame.
The subscriptions get renewed automatically. Users may stop the auto-renewing option whenever they want by following the steps specified by the administration.
BBWCupid allows its employees to access members' personal information to offer customer service, carry out back-office activities, prevent fraud, and so on.
Help & Support
BBWCupid takes customer satisfaction seriously. People who are not happy with the service or have any challenges using it gets attended to immediately. If the support team cannot solve a user's issue, the site adds extra time to his/her membership or give the money back.
The BBWCupid online dating website gives refunds when:
A user's account has technical issues
The service is unavailable for a long time, or there are issues that prevent people from using it
A person asks for a refund before starting communicating with another user
The platform may also refund money due to other reasons. Anyone who needs a refund must give the customer support team a detailed explanation of why he/she wants to cancel the membership.
People may reach the client support team using the hotline, postal address, or email specified on the website. The team answers phone calls from Monday to Friday between 9 a.m. and 4 p.m.
Q&A
Is BBWCupid Safe?
Yes. Users' safety is the main priority of BBWCupid. There is an excellent fraud prevention group of well-trained individuals who use the best tools to keep the platform free from fraudsters and scammers. The site also has a detailed safety page educating the community on online dating and detecting people with bad intentions.
Is BBWCupid a Real Dating Site?
Yes. BBWCupid is among the leading online matchmaking services for plus-sized individuals. There are thousands of people on this platform. It successfully brings many plus-big people from all over the world together. Hundreds of members have found their life partners here. They have even shared their success stories to help encourage others not to give up.
How to Use BBWCupid?
First of all, you need to register, providing basic details and going through a personality check. After successful registration, visitors can start searching and interacting with others. The search tool is free, and users may view active members. When you find a suitable partner, start the conversation. To write messages, you must upgrade to a paid account.
Is BBWCupid Free?
People may get several free services on BBWCupid: sending texts, liking profiles, adding users to their favorites list, checking who are interested in your page, searching for matches, and viewing photos. To avail of premium perks, you must choose one of the subscription options. Additional services include chatting live through instant messenger, profile highlighting, and translating texts.
Does BBWCupid Really Work?
Yes. BBWCupid has helped hundreds of plus-sized individuals find their life partners. This site offers a friendly, personalized service combined with the most recent technology. No matter where you are, this platform will help you meet the soulmate you have always dreamt about.
Conclusion
This online matchmaking platform is not the first one to focus on plus-sized individuals. However, BBWCupid is among the few that take users' safety and privacy seriously. The platform encourages members to report abusive or fake participants. Besides, the site also ensures that people can communicate easily. It is very interactive, offers nice features, and the prices are average. This site knows how to meet users' expectations. Apart from that, it has a technology that can translate texts into various languages, and its mobile version allows people to find matches on the go. So, if you are looking for a friend, romantic partner, or a pen pal, join BBWCupid today.