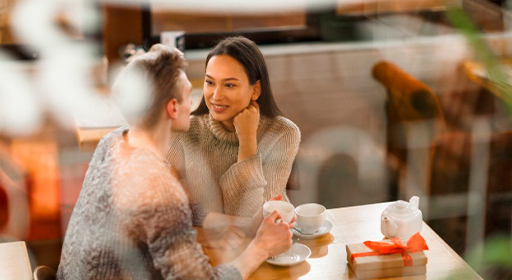 People always have a debate about which is better, OkCupid or Match. Both of these sites have a proven credibility, both of them are old but gold, and each one of them caters to diverse audiences. However, why do people always switch between these two sides and which one should take the medal? It is what we are about to find out.
OkCupid is a veteran of the dating industry, as this online dating platform has been on duty for nearly two decades. During this time, it collected millions of users around the world and allowed tens of thousands of people to find a soul mate. OkCupid is proud of over 1 million daily active users, with the majority located in the US. These numbers put OkCupid at the top of the list of dating sites.
Match.com is one of the longest running and most reliable dating sites that was launched in 1995. Match.com has built a solid reputation over the years and is known as a dating website for people who are interested in meaningful relationships.
The dating website is currently used by more than 4 million people in the United States and more than 8 million paying users around the world. It works by connecting people with equal interests and compatibility.
But despite the solid reputation of each site, why does everyone want to pick sides? Who will be the winner?
What is the difference between OkCupid and Match?
Match has several unique features, made to create an unforgettable experience. Did you know that Match uses:
Some people search for the opposite sides of their own. This feature allows you to find people who are completely opposed to what you are typically looking for. It's a fun feature that lets you step out of your comfort zone.
Using this paid feature allows users to be one of the most popular users on the site and one of the best options for other users.
Likes will make you visible to all like-minded people on the site, making the search process more profound.
If you find someone attractive and want that person to like you, then by clicking the "match me" button on that person's profile, you will appear in his / her best offers.
It's a feature that allows you to talk to other people in real life without revealing your phone number.
This feature allows you to make video calls with another member you matched with and someone you had a conversation with. The person you are calling must receive the video call to join you.
We all know that meeting someone you've never seen before can be dangerous. That is why you can add three emergency contacts, the name of the person and the place where you are going. In case you are in trouble, Match will contact people on your emergency list.
When it comes to OkCupid, it has an arsenal of various features, such as:
Using personality tests to help you find a soulmate
Personality tests help you introduce yourself and let the other person know the real you. Every OkCupid user takes this test upon registration. There are 16 questions in total, so the test takes very little time to complete. What you basically need to do is choose the answers that suit you (and your potential partner), and that's it; the algorithm will do the rest.
Just like on modern sites and apps, OkCupid gives you a chance to swipe right if you like a person and swipe left if you don't want to talk to them. This makes online connections more intuitive and faster than reading every profile possible.
OkCupid has a fascinating way of searching people with 80% accuracy. It is more than enough to stumble upon a perfect match according to the preferences you previously stated.
Which one is better for men?
It's not a secret that most dating sites are made for guys. You might stumble upon a platform that actually has more women than men using it from time to time. On OkCupid, there are almost twice as many guys as girls; depending on who you are, this can be a significant problem. If you are a guy trying to find a girl, then this can be quite difficult to do. But don't worry, it is possible. And yet, you must understand that the competition will be very strong.
When it comes to Match, this is one of the best dating sites for those looking for a genuine relationship. Men here are serious about the relationship thing, and most of them are looking more than a hookup. Here they are lucky, as the Match audience is almost 50/50 men and women, which creates a fair chance for everyone to succeed. Match.com or OkCupid, but both of these sites show incredible results in search success, which means that men are more than lucky with women who visit these sites daily, according to testimonies.
Which one is better for women?
From a women's point of view, men's competition on OkCupid can also be a problem. While at first it may seem like you have a wide variety of guys to choose from, it can be tricky. Men here come across as "stubborn" and "feisty" because the competition dictates the need to act tougher in order to get the girl quickly. However, this approach is not always successful. Therefore women have to check twice and opt for a safe date to make sure everything is fair and square.
But when it comes to Match, because of the fair division, men and women can easily choose whom to date. Since all the age groups are represented here, women are more than ready to go on dates, chat, and compliment on some men's maturity (and Match's audience is indeed mature!)
OkCupid vs Match – target audience
One thing worth mentioning with OkCupid is the predominant age group. Each dating platform has a dominant age for the people who use it. Some sites are more popular with older people, while others can mostly target a younger audience. It's safe to say that this site is geared towards young people. The dominant age group here is between 25 and 35 years old, most of which are men.
As stated previously, OkCupid has over 1 million daily active users, with the majority located in the US. However, there are many users from South America, Europe, and Asia.
Another great thing about the site is its openness to gender fluidity. Here, you can select up to five descriptors, ranging from CIS to gender fluid and non-binary. We can appreciate the modernity of allowing users to choose an accurate gender description rather than just their sex. You are also free to include both men and women in your searches if that is what you want, regardless of how you identify yourself, and to select specific pronouns. It's much more inclusive than Match, which makes everyone wonder why it should be a problem in 2021.
When it comes to the Match itself, about 3 million people visit the site every day and look for new acquaintances. However, as this site is very active, there are probably very few fake accounts, which makes this platform really trustworthy.
If you are worried about not finding people in your age group, then this is not necessary to think over. A good percentage of people come from different age groups. So no matter if you are 30 or 50 years old, you should be able to find several matches. The gender distribution is also fairly even: 49% of men and 51% of women.
On Match, most people come from the US, but you can meet residents of other countries, such as Latin America, Africa, Europe, Russia, and Asia.
When it comes to inclusivity, all nations and races are represented; however, their sexuality game is not as strong. Many people complain that the site wouldn't let you choose both genders if you like men and women, therefore bashing Match for not supporting bisexuals.
Interface and Usability
When it comes to the design of Match, it's really clear and simple. Even when a user takes their first time, there is no confusion at all. Both the website and the mobile app are more than user-friendly. The Match app gives you all the same functionality you get when using the website. It's effortless to connect and search for people and even get notifications as soon as you get a new match or message. This way, you don't miss any opportunity to connect. You can download the app from Google Play Store or Apple App Store. More than 25,000 new members download this app every day. What about OkCupid?
The vast majority of dating apps that exist today have at least a mediocre mobile version; that's not a problem. The thing is, sometimes these apps don't exist at all. While some brands focused on online dating are great at developing algorithms and connecting people, they should still do a little bit of app design work. However, surprisingly, this is not a problem for OkCupid, even though it's a fairly old site. The company also has a mobile app (for both iPhones and Android devices), and this is actually one of the best such apps out there. The mobile version of OkCupid also supports all the essential features you will find on the dating site's online version. It is very well designed, has a very functional and easy-to-use user interface, and works great on all types of mobile operating systems. But if you're choosing Match vs OkCupid, the first app saves the day.
Pricing: which service is more affordable?
Finally, now that we've got all the information we need about the dating platforms let's talk about OkCupid pricing.
The pricing in itself should be considered a major "benefit," as you can definitely use OkCupid for free and have access to all the features you need. You can purchase multiple credits (to boost your profile), the basic plan, or the premium plan. The last two are monthly paid subscriptions – you have to pay a certain fee each month. The plans are as follows:
Basic:
1 month – $ 7.95 per month
3 months – $ 6.35 per month
6 months – $ 3.95 per month
Premium:
1 month – $ 24.90 per month
3 months – $ 22.90 per month
6 months – $ 19.90 per month
Credits:
1 credit – $ 1.99
5 credits – $ 9.45
10 credits – $ 16.90
You'll have to pay for credits to do the following stuff on the site:
View who liked the profile
See daily profile improvements
View read messages
Use ad-free version
Use advanced search
When it comes to Match, the prices are average compared to other sites. However, it also depends on which plan you choose. Here is the pricing for both the standard and premium plan:
Standard plan prices:
3 months – $ 12.99 / month
6 months – $ 9.99 / month
12 months – $ 7.99 / month
Premium plan prices:
3 months – $ 14.99 / month
6 months – $ 11.49 / month
12 months – 8.99 / month
Boost:
1 Credit – $ 0.99 /month
5 Credits – $ 0.80 /month
10 Credits – $ 0.60 /month
Among paid features you can purchase on Match are sending messages and instant messages, see who viewed your profile, use MatchPhone, and Invisible mode. You can create your profile, view members, send likes and participate in a matchmaking game, and view other people's profiles for free. However, if you want to start chatting, you cannot do so without a data plan. Match or OkCupid, both sites have an intermediate price tag.
Pros and cons
Match:
| Pros | Cons |
| --- | --- |
| More than 4 million users from the US | Most features are paid |
| Simple design and a great app | |
| Quick registration | |
| Intuitive interface | |
OkCupid:
| Pros | Cons |
| --- | --- |
| Millions of daily uses from all over the world | Old site design |
| For quick dates and long-term relationships | Men prevail over women |
| Handy app | |
| Good searching engine | |
AND THE WINNER IS?…
Despite the fair play, the winner is OkCupid. And let us tell you why. Although Match has a great design, many essential features for free, it is proven that OkCupid has a better search engine which enables accurate matches. Yes, the check is bigger, but it is the price for your dating life, so why should you hesitate to pay for your comfort? Although the design in OkCupid is a little old-fashioned for someone's taste, the site itself acquires a better audience diversity, including representatives of every gender and sexuality. OkCupid is a fantastic site that provides fair matches for a vast majority of people worldwide, although Match is hands down a good competitor. To this day, dating experts remain skeptical about taking sides and encourage users to see for themselves and choose Match vs OkCupid. So why don't you try them out and see?