Whenever people think of trying their luck on a dating site, they usually get surrounded by a lot of questions involving whether they will get someone sober or do they want sober dating at all. On the other hand, some come up just to have something casual. It becomes tough for a person to trust any dating website this way. Therefore, Zoosk has marked its existence as the first unique site to provide a flexible dating platform, whether you are here for a serious relationship or just for fun. It helps you get through all the barriers and find a like-minded individual.
Zoosk has marked its popularity even on several lists, including The Next Big Thing of the Wall Street Journal. You will get to know everything about it in this Zoosk Review. (Also read Zoosk vs Match in our blog.)
How Does Zoosk Work?
Zoosk has a straightforward interface that allows the members to kick-start the journey by registering your profile for free and finally getting the access to scroll through the pages. Registration needs just 3-5 minutes and is pretty simple. It is not necessary to provide all the information as Zoosk is very flexible with its customers and focuses on making them happier. You can even share your preferences for better adaptability of the app to provide you with suitable recommendations.
Registration — Is It Really Easy?
Unlike other online dating websites that ask for too much information at the time of registration, Zoosk's sign up process is straightforward and does not require many details. All you need to do is visit Zoosk.com and select the Sign- Up option. You can also download the mobile app directly from the Play Store or App Store, open it, and click on Sign Up. Then you have to provide some necessary info:
Your Gender
Your sexual preference
Date of Birth
E-mail address
Password
After completing the registration, you have to upload a profile photo and start creating your page. To ensure that users don't post 10-20-year-old images, you have to take a video selfie to record the appearance from multiple angles. It is only for verification and will not be made public.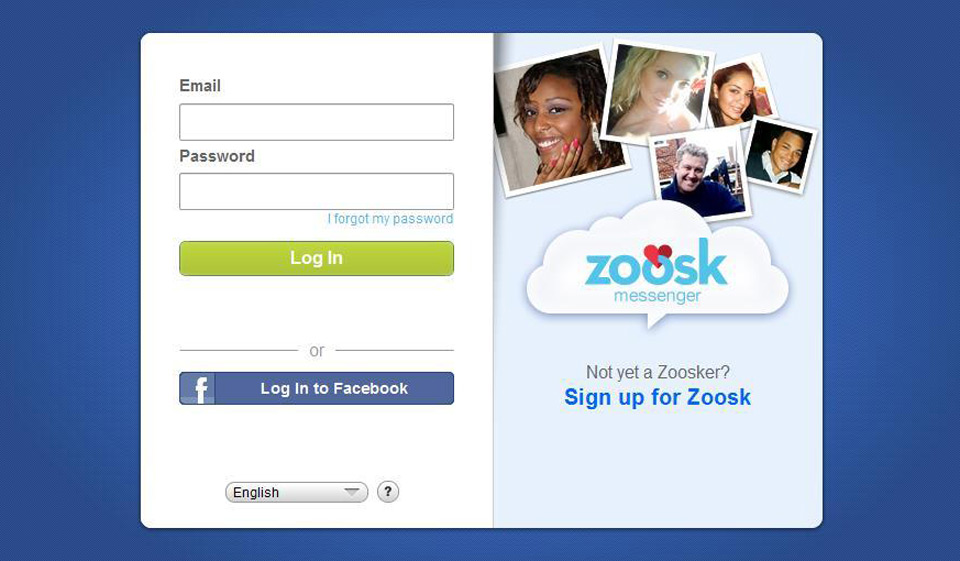 What About Design and Usability?
Zoosk boasts an adequate design that gives a simple and straightforward user experience to its members. Its sleek layout and the easily accessible interface make it even more attractive. This online dating platform is easy to use, and people trying out online dating for the first time don't face challenges.
It is effortless to locate the features available on Zoosk. All contacting elements often situated in the menu found on the left side of the page, and the option to subscribe to a premium account can be found right below the list. Everything you need regarding your profile is available on the top right side of the page through a drop-down menu. You can also find a chat cloud icon beside this menu, selecting it will take you to the chatting space. The platform is well maintained and organized for efficient use.
Zoosk has around 40 million subscribers all over the world. It's a platform that makes international dating achievable without making it all about hookups in another country. In this contemporary world, it has already made a significant mark in international dating were so many platforms are still trying to achieve this level.
Let's Talk About Profile Quality
The sign-up process is straightforward and short. After signing up, you can start creating your Zoosk profile. It will highlight personality overlooks with a detailed section about your interests, stories, necessary information, preferences, and ideal date. It helps in adding more credibility to the page and attracting other visitors. Most profiles are verified, and it is always preferred to interact with these accounts only. They are generally straightforward and make it easier for you to determine whether the person you are viewing is a match or not. Validation is also required; you can check if the user has done this procedure simply viewing his/her page. Thus, there is a guarantee that the account is real and genuine.
The Mobile Application
To make it easily accessible anytime and anywhere, Zoosk is also available for Android and IOS users. This mobile application provides a seamless experience and gives access to the same features as on the website version. The design is also simple and easy to use.
The only drawback you might find in using Zoosk's mobile application is the annoying set of ads. However, if you subscribe to premium membership, they will automatically disappear.
Safety and Security
Zoosk makes sure that proper measures are taken towards the safety and security of the users, and their privacy is maintained. These measures include an encryption system for the member's personal information. Though, the community is sincerely informed and advised to be cautious while surfing online. However, a newbie dating manual saves them from scams and also explains everything from registering to asking a person in real life for a date.
Although the profiles are verified, people have to be cautious. They may get involved in illegal and fraudulent activities, and it is not possible to take background checks on every user. If you suspect any inappropriate behavior, you can report it, and proper action will be executed against that person.
Pricing and Benefits
Though you can browse and explore an unlimited number of profiles on Zoosk and like them, you will not be able to send or read any messages from others. To unlock this feature, you will have to subscribe to a premium account.
Subscription Pricing
1 month = $29.95
3 months = $ 59.85
6 months = $ 89.98
Zoosk Premium membership offers you tons of options and benefits such as freedom to send messages to other users and reply to them. You can see those who have visited your profile the most and use the Smart Picks feature. There is also a fantastic function at your disposal — the virtual currency system that allows you to buy your matched virtual gifts. You can choose from roses, beach balls, chocolates, and so on.
The virtual currency system works based on coins that a member can buy with real money.
50 coins = $4.99
50 coins = $ 19.99
750 coins = $ 49.99
It is very affordable and entirely optional for you. You don't have to go through the long process of buying actual gifts, mailing them physically to your match's address, and cover shipping charges. The payment system is just as uncomplicated and straightforward as it looks. You can utilize:
Credit Card
Direct Debit
PayPal
The procedure is safe and secure; that guarantees no scams or sharing of your privacy with any third party.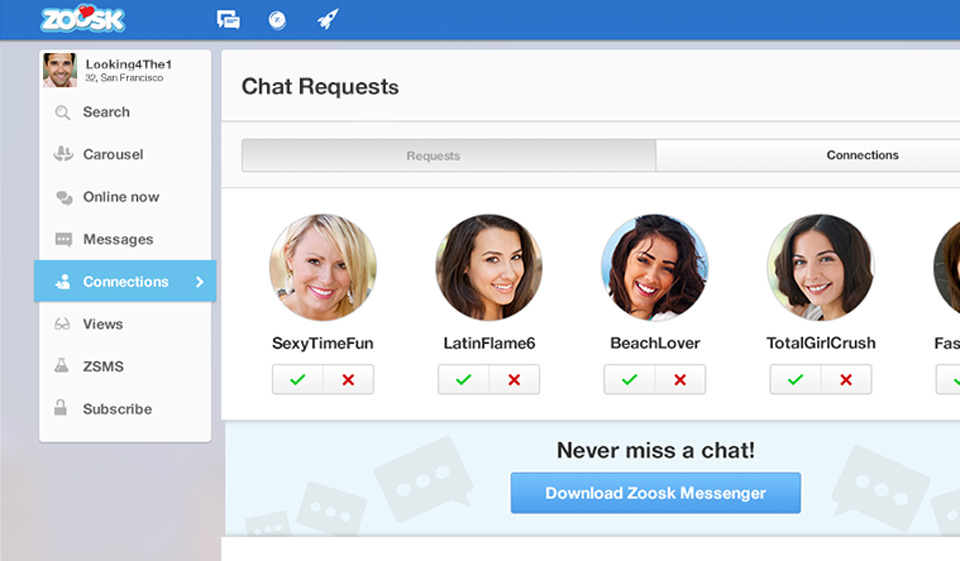 Help and Support
Zoosk is a well-maintained website with reputed customer service. The FAQs are quite efficient in providing detailed solutions to all the issues you may face while using the platform and application. If you are not able to solve your problem, you can communicate it through e-mail. You can easily find the Contact Us option utilizing the search option. All the requests can be addressed quickly as they have the fastest support team actively taking care of the complaints.
If you are using the mobile app, you can get support through the setting icon located on the top left-hand side of your screen. If you wish to report any profile because of abusive or improper behavior, you can select the 'Report Profile' option found on each user's page. The support representatives will look into it and take necessary measures.
Q&A
Is Zoosk Safe?
Yes, Zoosk is one of the most trusted and secure online dating platforms for international dating. You can rest assured that your personal information and privacy are safe. Specific protocols have been abided to avoid scamming and illegal activities. Though, it is advised that you interact with verified profiles only.
Is Zoosk a Real Dating Platform?
Founded in 2007 by Shayan Zadeh and Alex Mehr, it has been increasing its international community and is one of the most popular online dating platforms with over 30 million subscribers. It is a renowned company with its headquarters located in Berlin, Germany. It has also received various awards:
Ranked 1660 in the Inc. of the 5000 lists of fastest-growing private companies in America, 2014
Ranked 29 in The Next Big Thing 2011- The Top 50 Venture-Funded Companies list in The Wall Street Journal, 2014
Best Dating App competition finalist in the Reader's Choice Awards of About.com, 2011
An Effie Award for its advertising campaign "Online Dating, Your Way," 2012
Ranked the fifth most popular dating app in the world according to AppApeal, 2012
Ranked the third most popular dating app in the U.S by AppApeal, 2012
How to Use Zoosk?
Zoosk has a unique way of finding the best matches for you. All you have to do is sign up, create your profile, and start exploring. People you like and the ones you communicate with will be considered to find better matches. You can interact and send them virtual gifts or go on actual dates. All you have to do is, sign up and open possibilities to a million ways of finding love.
Is Zoosk Free?
People who wish to take a demo or trial can sign up for free and start browsing through the profiles. Though, you cannot send any message to others or read the messages sent to you by them. You need to get a premium membership to unlock these features and many more advanced ones as well.
Does Zoosk Really Work?
Launched about more than a decade ago, Zoosk is the only online dating platform that has been able to touch the hearts of thousands of people. You can find real and genuine stories of couples who were able to find their soulmate here. Whether it works or not depends on you willing to take the risk. You'll never know until you try.
How Do I Deactivate My Profile From Zoosk?
You can either temporarily deactivate your profile or permanently delete it from Zoosk's database. If you want to temporarily disable your account, this will hide your profile from others and keep your page, messages, and connections until you come back.
What If You Are a Paid Member and Still Want to Deactivate Your Profile?
First, you need to cancel your subscription. After that, go to Account Settings and select the Edit option next to Account Status. Select Deactivate, and you will get directed and processed to the confirmation page. Then you have to confirm Deactivate Zoosk Account, and that's it.
Who Can Join Zoosk?
Everyone who is above 18 years of age can join this dating community.
Is Verification Necessary?
All the members have to go through the verification process.
What Is the Success Rate of the Website?
It can be checked by going through the success stories on the blog claiming it to be the most successful dating platform.
What Members Are on This Website?
People looking for a serious relationship and casual fun, both can be found here.
Conclusion
Overall, Zoosk has promisingly proved as one of the best dating sites. They have taken care of all the requirements a user can demand, therefore making it an excellent portal for spending time. It is authentic and worthy of its customers.
Now It is your time to give Zoosk your best shot, who knows, maybe you will be the next success story of their blog.