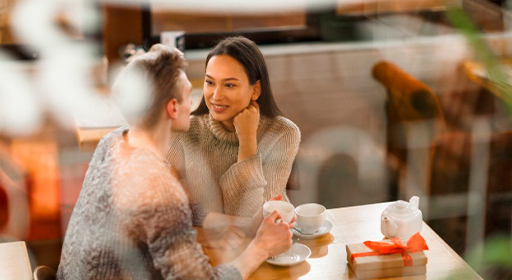 A charming relationship, heavenly date nights, and a fairy-tale relationship: sounds impressive, right? Or, are you tired of heartbreaks and relationship baggage and waiting for the spiced-up hot dates with no strings attached? Well, for either of your choices, we know where your match awaits. Keep reading, and happy dating!
Tinder or POF
Want a no-strings-attached date or hook up casually? A short-term relationship is not bad either? Tinder has let people worldwide swipe left and right to get their perfect date for the past nine years. Your matched "the one" will be entirely based on what you want from your date. This app allows users to get a date of their choice based on photos, a brief bio, shared interests. Asking out is now as easy as swiping right. The Match Group has designed the application with swiping, messaging, mutual connections, Instagram Integration, Tinder Gold, and Panic Button features that make your dating experience super smooth.
Are you tired of being alone and looking for the person of your dream? Want a forever companionship to get married eventually? I tried everything, but nothing worked. We know what you haven't tried yet, and this will get you in touch with your "the one" right away. Plenty of Fish offers you the best personality assessment, messaging, and tons of other features absolutely for free. With this free download of the application on your mobile, you can meet the person who pauses your heartbeat just in a bit of time.
What is the Difference between Tinder and POF?
Plenty of Fish or Tinder? Overview at a glance:
Plenty of Fish
Chemistry Predictor: The users take chemistry compatibility tests, wanted tests, keeper tests, psychological tests, and sex tests, and the application utilizes the test results to connect suitable matches. There are 30 to 100 questions the users need to answer.
Top Prospect: According to your level of compatibility, the Top Prospect feature on this app will list down for you 30 accounts that you have interacted with, the most in the last 30 days. History says people have gotten hitched trusting this Top Prospect list.
Meet Me option: The Meet Me features sends a notification about the matches in your area who consented to meet up. When you and your partner tick "yes," the app enables chatting with each other.
Automatic Profiling and Decision making: POF ensures the absolute privacy of its users. The profiling and every other function are computerized involving no human interference.

Tinder

Boost and Super Boost: Boosting your profile will put you up at the front of the queue for 30 minutes, and subscribing to super-boost will get you noticed by your potential matches at 100x in hot hours.
Swiping across the Globe: Tinder helps you find your match in the location of your preference. Get a date just in your city or travel across the world to get to your ideal partner.
Rewind: What if you clumsily swipe left the person you liked? The rewind feature helps in just undoing that.
Superlike: Superlike is a blue star icon you can send to one member every day that stands out according to you. In the premium version, you get access to more than one superlike.
Overview of Tinder vs POF
| Tinder | Plenty of Fish |
| --- | --- |
| Swipe right to like a profile. | Free messaging available. |
| Has millions of users. | It is a free-to-download application. |
| Little lack of profile authenticity. | Has a Personality Assessment feature that helps you in choosing the ideal match. |
| Pro LGBTQ+ | The application automatically signs out inactive users. |
| Minimal profile information available. | Provides more free services compared to Tinder. |
| Can connect to different applications like Snapchat or Spotify. | |
| Has lesser free services compared to POF. | |
| Dating site that helps you find your love. | |
Tinder vs POF Signing up:
Signing up is pretty easy for both applications. You can have your profile ready in even less than 20 minutes. Signing up on Tinder using your Facebook account is the quickest as your information will be auto-generated. POF, on the other hand, takes a little more time. You have to choose your username and password, answer a questionnaire quickly, give a little something about yourself, undergo identity verification using your phone number, and you are good to go. So in a neck-to-neck competition of POF vs Tinder, Tinder bags the win for faster signing up.
Tinder vs Plenty of Fish, Updating your Bio:
Are you not comfortable with sharing too much about yourself? Uh-oh! POF needs you to write a comprehensive insight into your life, but Tinder believes in "A picture says a thousand words." So, you can choose whichever caters to your love-pangs.
Tinder or POF? What will you choose for casual dates?
People often choose dating apps for spicing up their sex life or dating game. If you are looking for a fling, Tinder is your choice, while POF might lead you to the ring. Tinder has a reputation for casual hook-ups mostly whereas Plenty of Fish has promised long-term relationships more.
Tinder or Plenty of Fish: Which One Is Better for Men?
Choosing Tinder or Plenty of Fish is entirely a matter of preference whether you want a casual fling or a serious long-term commitment. Tinder gathers a younger crowd up for hook-ups or casual dating while plenty of fish bags a reputation for long-term committed relationships. So, if you are stressed with your work and tired of balancing nagging relationships along, do not let the spice go. Sign up on Tinder and get your match but if you are just tired of meaningless dating and sex, look for her in Plenty of Fish. She is waiting for you.
Tinder or POF: Which One is Better for Women?
As we have already said, the primary difference between the two applications, you have to pick between fling or the ring. If you are tired of man-child obstructing your career and life goals without hating the dry spell, sign up on Tinder and choose your perfect dress for the date night right away. In Plenty of Fish, you can come across men looking for long-term commitments. Ready to settle down? Join POF now!
Tinder vs Plenty of Fish – Target Audience
All applications might look the same, but every app has its uniqueness that you must know about while choosing the platform you want. While some sites promise long-term commitments, others cater to hook-ups and one-night stands. It would be best to have the exact idea of where you want to be while choosing your application. For casual flings, sign up to tinder, and for having the dream relationship, POF is just your place. If you have homosexual, asexual, or bisexual orientation, Tinder has to be your pick since POF has not yet broken its age-old thought of every user belonging to either female or male group.
You don't want to waste signing up on an app that does not have a reputation in your area unless you want to travel across the globe, right? So, checking the availability of your app is very important. Tinder is actively available in as many as 190 countries in 34 languages, while POF is used in 20 countries in 9 languages. Tinder users are worldwide from Japan, China, Nepal, India, and Korea to America, Spain, and Russia. POF serves a limited number of nations, including Canada, Australia, Spain, and Ireland. So, quite clearly, Tinder has a head start in Tinder vs POF.
Every gender can use Tinder above the age of 18, having any sexual orientation. Plenty of Fish filters your matches and shows you results in around 14 years of the age gap.
Whenever you think about getting an ideal match, you have to come to POF. Tinder, though it has plenty of real profiles, cannot deny there are no fake ones. The crowd in Tinder mainly consists of youth who are not ready for serious commitments, while POF serves a more mature group. Plenty of Fish has a traditional appeal where it takes a longer time to find a suitor, while Tinder, like a speed dating application, finds you your match much quickly. Are you still confused between Tinder or Plenty of Fish? Keep reading.
POF vs Tinder: Interface and Usability
Application Interface
| Plenty of Fish | Tinder |
| --- | --- |
| POF comes with a bit complex user interface where if you are not much of a pro, you might get lost. The navigation can be a little tricky, but it indeed does offer fascinating aesthetics. | In POF vs Tinder, Tinder is more instinctive. It is a very easy-to-use mobile application designed the most perfect for helping you find your match in the quickest possible amount of time. |
Tinder vs Plenty of Fish comparison can be tricky since the two are designed for two different platforms. Tinder offers all ages and sexual orientations a platform to all singles, while POF is an app for heterosexual orientation.
Tinder or POF: Pricing – Which Service Is More Affordable?
With 8 million and 2 million daily logins on Tinder and POF, respectively, there is a list of outstanding free services as well as premium services these applications have to offer. We have summarized it just for you.
Let's first talk about the irresistible features you can get absolutely for free:
Tinder
Plenty of Fish

Free app download
Swipe left
Updating profile picture
Free registering
Finding members near you
A super like every day

Creating an account
Getting matches
Free app download
Sending messages
Adding any member to favourites List
The Compatibility prediction assessment
Viewing profiles
Sending voice notes
Find out online members
Seeing members near you
Participation in forums
Tinder vs POF Premium Services:
Tinder
Plenty of Fish

Finding out members who have liked you
Being at the top of the queue
Finding instant matches
Interacting with members around the globe
No limit on likes and right swipes
Undoing right swipes
Having access to top matches

Be at the top of "Meet Me"
Advertisement free surfing
Viewing profiles
Review extended profiles
Be prioritized in the search results
Substantial increase in emails
Can send up to three gifts everyday
Tinder Gold under 28 Subscription Fees:
1 Month: 14.99 USD
6 Months: 8.83 USD
12 Months: 6.92 USD
Upgraded User Experience Cost for Plenty of Fish:
2 Months: 19.35 USD
4 Months: 12.75 USD
8 Months: 10.18 USD
Tinder vs POF: Pros and Cons
Advantages of Tinder:
Quick registration.
Personalized matches.
User-friendly. Saves users from unwanted email chains.
Suitable for the young generation.
Pro LGBTQ.
Disadvantages of Tinder:
There might be privacy issues. Basic information and your pictures stay on the internet forever once uploaded.
Tinder instigates rash decision-making for its brief bio and hooks up a reputation.
The basic plan offers a limited number of swipes.
Based on appearance, and can be tricky.
Advantages of POF:
Since it is a free application, it has a huge user pool.
Amazing reviews by users.
You can have access to unique features absolutely for free.
In the premium app version, you can find your match based on income, posterior, academic qualification, and job.
This app notifies you whether the person is your ideal match before you initiate a conversation.
Disadvantages of POF:
Outdated user interface.
Lengthy signing up procedure.
Free sites invite fake profiles and scammers.
Full of advertisements that interferes with user experience.
And the Winner Is?…
Tinder pulls the youth for casual flings while POF promises long-term commitments. Both the apps come with Meet Me and matchmaking features, great for socializing and engagements. The apps offer a considerable amount of free features that give you a cool surfing experience before investing your bucks. The bio and pictures add authenticity to the profiles of the users. Coming from the Match.com umbrella, both apps offer a fantastic user experience.
If a winner has to be declared in POF vs Tinder, then Tinder might bag the win while POF will breathe on the neck. Tinder's easy user interface and broader availability across multiple countries and languages make it more user-friendly. Nonetheless, we cannot just forget the special assessments POF has set for its users and its long bio to help you know the person better before tapping "yes" so that you do not regret it later.
You deserve the most charming date because you are amazing. So, express precisely what you want in your bio and preference, and we promise you don't have to wait long for your phone to beep and your heart to pound. So, did you like our guide to finding your charming date for tonight? We are waiting to know, so please don't forget to share your experience with us!