Parship is a platform precisely about love. Launched on the 14th of February 2001 as a lovers' treat, this platform expanded to 13 countries in Europe the following year. At present, it is one of the biggest dating websites, with more than 11 million members in Europe. The number of UK subscribers alone is more than 125,000. According to statistics released by the company, almost 23,000 new users register every week.
Parship is a serious introvert dating service that is concerned with getting its members into long-term relationships instead of casual meet-ups and flirting. It uses a scientific algorithm to identify and pair compatible individuals among its users.
The algorithm suggests only highly compatible members to each other, which helps the platform fulfill its long-term commitments. Hugo Schmale, Cofounder and a Professor of Psychology developed this science-based compatibility matching. It was a product of his many years of studying psychology, philosophy, and psychiatry, in addition to the intricacies of relationships.
How does Parship Work?
Parship relies on its science-based compatibility algorithm as its main selling point. It believes every individual is uniquely different, which makes it necessary to identify each person uniquely. To meet this need, Parship developed and patented its now-famous "Parship Principle."
The platform uses a list of 30 personality attributes to evaluate each member. While registering, each potential user has a series of 80 different questions to answer in the Parship personality questionnaire.
The system analyses each of the responses to produce a distinct personality rating. This rating covers four major areas:
Basics of your personality – This includes the lens through which you see the world, your paradigms and perspectives, how you balance passion with a conscience, and your interest in relational intimacy.
Your behaviors in a relationship – This includes whether you are introvert or extrovert, your ease of approaching people, your ability to adapt quickly, etc.
Your daily lifestyle – Are you a routine person, or you love uncertainties? Are you a conventional individual or unconventional? How regulated is your everyday life?
Your childhood behaviors – Every individual is affected by his or her childhood, either positively or negatively. It might be a potential risk factor in a relationship.
Parship records these scores and uses them to match compatible partners to a high degree of accuracy.
Registration – Is It Really Easy?
There are two means to sign up on Parship. You can use your Facebook profile or your email address. When you choose the email option, the system prompts you to provide your gender and the gender you are searching for. It leads you to the section where you input your email and password, from where you can click on "register now for free."
The system does not verify your email account. Therefore, as soon as your email address is accepted, you can move to the next step.
The "Parship Principle" science-based personality questionnaire is next. It takes almost 20 minutes to answer all the 80 questions. The survey is broken into different sections to make it easier.
The first section deals with the features and attributes that you look forward to in a partner and why you desire a relationship. It will also ask how you respond to being lovesick and what your thoughts are on sexual fidelity.
The next section deals with your personality. Typical questions to expect include:
What do friends think about you? What about other close associates?
What are your leisure activities?
Are you a fan of cooking?
Which of the holidays interest you the most?
Do you close your windows before sleeping?
These questions form the basis of suggestion and matching to other compatible members.
The following section evaluates your outlook and perspective on life. The system shows you different patterns and asks you to pick the one you find most appealing. Other questions may seem weird to you, but they culminate in ideally determining your personality type.
Other typical questions to expect include:
Do you react enthusiastically to situations that fascinate you?
What is your dressing pattern?
What is your reaction if a close person upsets you?
What is your response if someone argues with an answer you know as correct?
What appeals to you in a song – the lyrics, rhythm, or melody?
The final section asks more intimate questions such as:
Are you comfortable with your physical appearance?
What are your highly regarded values?
Although the questionnaire is quite lengthy, they are multiple-choice questions where you just select the correct answers.
Immediately after filling the questionnaire, you move ahead to create your profile. The platform asks for the following personal details:
First and surname
Date of birth
Job or profession
Height
Your relationship status – whether you are single, separated, divorced, or widowed.
Educational level
Level of income
Postal code
The final step is to upload a profile picture. You need to take note that photos are not a compulsory requirement. You can proceed without uploading one.
You have to answer a minimum of 2 questions from the displayed list of items before completing your profile creation.
Before the system creates your profile, you will introduce yourself – summarizing your personality and potential partner. As soon as you finish this step, you can start using the platform.
What About Design and Usability?
The website has a beautiful interface that is easy to navigate. However, users might have issues with a few features.
The first is the lengthy registration process that takes almost 20 minutes. It might be understandable because the questions help Parship suggest highly compatible partners to a high degree of precision.
The second issue is the profile creation process. Despite the numerous questions asked, after registration, profiles might still be less than 50% complete. Your profile must have at least 50% completion to use some features like sending icebreakers. It means you need to provide even more details to satisfy the system.
You can find match suggestions when with a half complete profile in the "My Parship Area." You can utilize the search button to find interesting profiles by applying different filters. The interaction buttons are easy to find and use.
When you find profiles that appeal to you, you can add them to your "favorite list." It will reduce your stress when next you plan to check them out.
Another challenging feature is the naming pattern. Parship uses alphanumeric characters to represent members instead of names or usernames. Rather than find "Rose," "John," or "Winnie," all you see is "FH265D," and so on.
Although site administrators claim this a safety mechanism to protect members' anonymity, users find it odd.
Being a paying member does not give you access to see other members' pictures. There is a different approach, considering that other platforms only blur photos for unpaid users. According to administrators, this is to ensure members have total control over who sees them. Unless a member releases his or her pictures to you, there is no avenue to see who they are.
Let's Talk About Profile Quality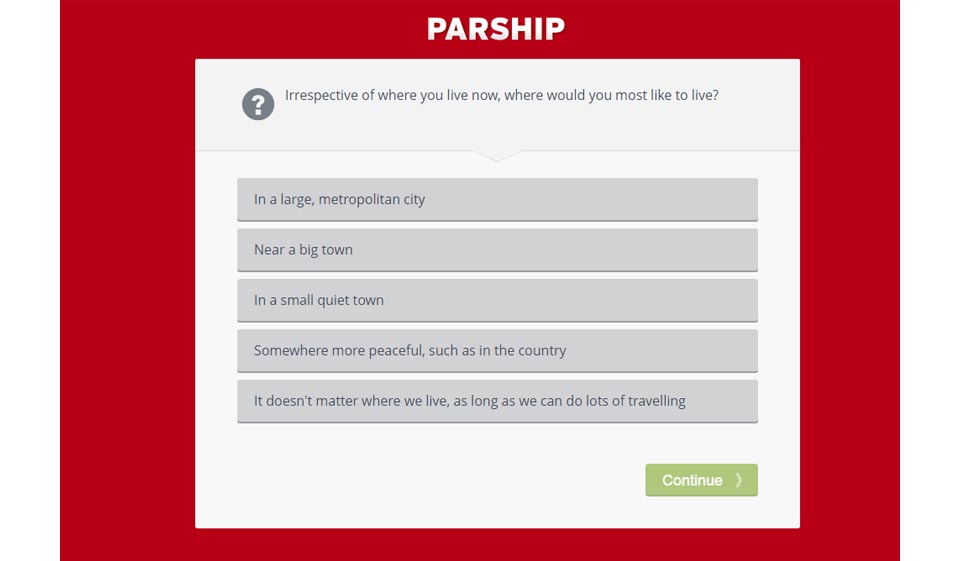 Parship member profile is one of the most comprehensive ones in the dating space today. It is detailed and informative. It gives you a well-documented overview of the user you want to check. Different components make up a Parship profile.
Profile summary: There is a prominent profile picture that you can see when the user decides to share it with you. It displays the member's occupation, last seen time, and the level of compatibility. As mentioned earlier, there is no name to accompany these impressive details – only neutral IDs.
Fact file: This section displays the member's necessary information such as height, location, and relationship status. However, it does even more. It shows spoken languages; sporting activities participated in, smoking specifications, level of education, desire to have children, and the number of children you have presently.
Personal quote: This section highlights the personal introduction you wrote while creating your profile. Here, you have the opportunity to describe your personality in your own words.
Compatibility status – When you view a user profile, a status bar shows the level of compatibility between the two of you. The Parship compatibility algorithm uses habits, personality, and interests to suggest matching partners. If you are curious about how the system generates the compatibility rating, you can expand the section for a more in-depth look.
Your personality rating is measured against the other user's personality based on the four elements highlighted earlier. Therefore, you can see how this member compares not just in total but also on the various components that make up the total rating.
About him or her – This section displays your answers from the list of 20 questions before opening your account. Instead of finding definitive statements, they show users' reactions during different situations. Examples of these statements include: "I cannot live without…," "If I am in a bad mood…" and so on.
Leisure – One can find here different sporting activities that interest the individual: how the member spends his holiday periods, places he or she likes to visit, the person's favorite playlist, and a host of other questions.
The Mobile Application
The Parship mobile app is available for free on the Google Play Store and the Apple App Store. For iOS users, you can also get it there.
The app runs seamlessly on the iPhone, as well as other android devices. Some of the features you can use on the app include:
Writing your answers to questions.
Communicating with other members
Checking profiles and photos of other users
Sending digital smiles and other funny questions
Activating the push notification so that you do not miss any message
However, you cannot register on the app. Registration is only possible on the website. If you prefer to send longer messages, a PC might be your best bet.
Safety & Security
Member safety is a top priority for the administrators of Parship. They have structures in place to protect their users from falling victims while using the platform.
128 Bit SSL Encryption: this is an industry-standard guarantee that connection is private, and all user information is safe. All messages are end-to-end encrypted, meaning there is no avenue for eavesdropping or spying. Chats move in an encrypted format to ensure their safety, even if intercepted.
Regular profile verification: Parship frowns at fake and suspicious profiles. When reported, offenders face strict sanctions. At regular intervals, an official runs a check through each of the profiles to weed out fraudulent persons.
Top-notch anonymity: To ensure users are safe, Parship labels each profile with a unique alphanumeric ID, instead of names, usernames, or an alias. It is to give complete control to members over who knows their real names. Until a user agrees to tell you his or her name, you are clueless.
Blurring of Photos: Although this feature is frowned at in some quarters, this is a safety mechanism to ensure members' security. Even if you are a premium user, you cannot see another member's photo unless he or she agrees to show you. It further strengthens the control users have over their profiles.
Sharing of safety tips: Parship regularly shares the best online dating practices to its members to guide their interactions. It advises them on what to do in different scenarios they find themselves.
Pricing and Benefits
Parship has two profile choices – free and paid.
Under the free plan, you have the following privileges:
Register on the platform
Complete the Parship Principle personality test and create a profile
Receive match suggestions on compatible profiles.
Make and receive requests for contact.
Send a variety of exciting messages like icebreakers, digital smiles, and fun matches.
However, further communication is restricted. If the other person receives and responds to your contact request, you can neither read nor respond to the message.
Several interesting features are available in the premium plan.
You can send unlimited messages to other Parship users.
You can exchange photos with members who request them and share yours too.
You can use the advanced filter feature for more precise searching such as singles in your *local area, income level, and education, etc.
You can see every user that checks your profile.
You can sign up for the "Parship contact guarantee" feature.
Parship has three subscription options you can choose from, namely: Premium Lite, Premium Classic, and Premium Comfort. With premium lite, you pay for three months at £29.90, making it £89.70. For the premium classic, you subscribe for six months at the rate of £19.90, totaling £119.40, and lastly, for the premium comfort, you pay for twelve months at £14.90 per month, making £178.80.
There is no option for a free trial. Either you use the platform free, or you pay. As discussed above, the free option is limited in its features and functionalities compared to the paid version.
You can use PayPal, Bankeinzug, and other credit cards like MasterCard, Visa, and American Express to make payments.
Help & Support
Parship has an effective customer service to cater to its members, and reviewers regarded it as one of the best and faster support on the dating website. There are two methods to access help and support from the platform.
The first one is a comprehensive, frequently asked questions (FAQ) page. The page is easy to navigate and interact with any device. Some articles provide answers to specific questions, and you can easily direct yourself.
Depending on your status – whether you are a member or not, Parship narrows down the questions to specifically meet your request.
The second feature is the various channels to contact a customer service agent. You can write them a mail at support@Parship.co.uk. If you prefer to call, the number is +49 (0) 40 469 751 34. You can as well send a mail by postal to Speersort 10, 20095 Hamburg, Germany. Finally, you can send a fax to +49 40 4600261 60.
Q&A
Is Parship Safe?
The platform has built-in safety measures such as a high anonymity level, end-to-end encryption of messages, regular verification of accounts, and a blog for sharing dating best practices.
Is Parship a Real Dating Site?
Yes, it is. It advertises itself as a serious dating website for long-term relationships, not just random hook-ups.
How to Use Parship?
Visit the website at www.Parship.com to get started. After registration and creating your profile, you can start searching for your future soul mate.
Is Parship Free?
No, it has a free and paid option.
Does Parship Really Work?
Its mediation algorithm suggests the most compatible partners for a serious relationship.
Conclusion
Parship is a significant player in the European dating market. With its membership base of over 11 million, you can never run out of options. It is notable for its patented Parship Principle personality test that uses a series of personalized questions to rate members. It advertises itself as a serious dating service, thus, attracting many serious members looking for long-term relationships. Regardless of your current relationship status or sexuality, Parship has you covered.