Farmers Dating Site has been providing its services since 2011. Being part of Dating Media Group, it is one of the most popular platforms focused on people interested in the country lifestyle. Fitnessdates, Dateamillionaire, Bbwromance are among other well-known and profitable websites also included in the group.
Farmers Dating Site is a leading service for marriage and serious relationships. Its primary aim is matching with suitable partners and arranging long-lasting relationships. Additionally, its users are mostly single Canadians; yet there are some American visitors.
It is a great benefit that members share a similar lifestyle and are interested in agriculture. Finally, there is a place for people who are into farming and gardening. Farmers Dating Site can be an excellent place for you if you are a single farmer or searching for one.
Find out more about this new fast-growing niche of farmers dating further in this review.
How Does Farmers Dating Site Work?
If you decide to become a member of Farmers Dating Site, you should go to its homepage first. Then, select your age, choose your username and a valid email address. Once you verify your email by clicking the link, you can start communicating with others and become the part of country dating site.
If you want to send messages on Farmers Dating Site, you should consider a premium membership. Firstly, choose a user you want to interact with and open the account. Type your text and click on the button below. Alternatively, you can try another option called Texting, which has a letter icon. It's right under a user`s main picture on the left side of a member`s screen. Write the subject of your text and a message itself, and finally, press Send.
After the registration process is done, start communicating with others to find multiple matches nearby; for that, use the search filter. Farmers Dating Site has a user-intuitive interface. So, you may also save the profiles of those you like and browse their pictures. Once you adjust the search engine, it will immediately offer you a list of matches. The service on Farmers Dating Site is similar to Grinder and Tinder, where you should pick a pass or like on the users` pages. Your favorite accounts will be present in your search history all the time. You can then get back to them later. Alternatively, premium subscribers on Farmers Dating Site can use a chatroom to their advantage. Two additional features — Not Interested and Little Black Book — will help to block people you dislike.
Registration – Is It Really Easy?
If you decide to register at Farmers Dating Site, you should know that it is a streamlined operation and somewhat easy to use. It will take you about fifteen minutes to complete, depending on how fast you are.
It would be best if you first visit the Farmers Dating Site`s homepage. Then you will have to choose both your and prospective partner`s gender.
After that, provide your valid email and make up a password for Farmers Dating Site. Besides, you can select your username so that other users can recognize you on the platform. Keep it expressive and straightforward; it should contain a tone and descriptive words, and people at Farmers Dating Site will get the idea of your personality and interests.
Finally, there is necessary information that you need to specify, such as your location and age. The procedure is that simple. Right after you get your login credentials, feel free to join and begin interacting with its fascinating members who share your rural way of life.
What About Design and Usability?
The website is nice-looking and neat. It focuses on people who share specific backgrounds and interests. The design of similar niche sites is usually pretty old-timey and basic. However, it is not the case with Farmers Dating Site. The developers managed to create the perfect balance, as it is rather intuitive but up-to-date. It looks modern, organized, easy-to-use, and effective. On the homepage, there are beautiful couples with a rural landscape behind them. The dominant color is, of course, green, given the general preferences of the audience.
As to its functionality, Farmers Dating Site is quite straightforward. Even people who don't know much about the Internet can handle its multiple features. The platform runs smoothly, along with all the functions.
Let`s Talk About Profile Quality
The majority of people who register here are in search of serious relationship and commitment. To get started with Farmers Dating Site, you should give as much personal information as possible. The more you provide, the more success you get to match with suitable users. Just try to put yourself in other members` shoes, as they would like to know all the details first. Before they choose to contact you, add you to the favorites, and like you, they must learn a lot about your personality. That's why it's recommended to spend some valuable time filling in your profile, starting from lifestyle, view of life, and interests.
Besides, the most considerable part of the Farmers Dating Site profile is answering the questions. Its algorithm gives a chance to discover more details about a person to suggest you the most compatible matches. Besides necessary information, such as language and gender, you should also thoroughly describe your appearance, personality, and farming experience.
Farmers Dating Site is more than photos; you can also upload videos and use chatrooms to learn more about each other.
The Mobile Application
Farmers Dating Site offers a great experience for Android users. Some people might not want to download it, even though it is undoubtedly more convenient. However, the mobile website version and the app have the same features. You will be able to access Farmers Dating Site from your phone once you open it in your mobile browser. The platform offers a wide range of options for communication, whether you are going to download the program or not.
Safety & Security
You can always refer to the page with safety tips for some research. The website encourages its users to report to the Farmers Dating Site administration any suspicious activities. You can do it by clicking the Report button on the member`s profile. Besides, do not disclose any personal information to strangers.
Pricing and Benefits
There are three premium membership plans on Farmers Dating Site:
One month — 24,95 dollars
Three months — 16,66 per month, 49,95 dollars in total
The last option costs 7,49 dollars per month, 89,88 dollars in total
Also, if you still doubt whether you want to join Farmers Dating Site, there is a five-day trial for only one dollar. After having used this offer, you may choose one of the packages mentioned above.
The platform doesn't boast many services; however, it offers essential features. When it comes to communicating, there are instant messaging, emailing, and chatting. Other dating platforms do not even have chatrooms or instant messages, so Farmers Dating Site is at least one step ahead of them.
Farmers Dating Site gives the opportunity to send flirts if you like somebody. It is a great way to tell others that you want to communicate. These flirts are perfect for introverted or shy members, as there is no need to interact with people directly.
The Little Black Book feature is yet one more fascinating perk on Farmers Dating Site. It allows you to add a person to your Book if you are interested in them or find them attractive. But first, you will need to get their consent. If a user does not mind, you will get access to their additional private photos and information.
The feature called Not Interested is another tool provided by Farmers Dating Site. Next to a member`s account photo, you can choose whether a user will be able to contact you or not. It will help you to feel more relaxed and block those you don't want to interact with.
Free visitors cannot use all the features of Farmers Dating Site as their activities are limited. Browsing for free, you can add profile photos, use the search tool, and receive flirts and instant messages. If you want to have more functionality, switch to a paid subscription.
Help & Support
If you need any support from Farmers Dating Site, go to the main page, which is on the bottom left corner. Just click the Contact Us button to submit your email, select the topic, and write the subject of your inquiry. Then outline the problem (you even may upload a file) and, finally, prove that you are a human by typing a given code. That's it; you can send your message now. Alternatively, contact the support team of Farmers Dating Site by calling them on the provided phone number. The moderators claim that they reach their customers within 24 hours via email.
Q&A
Is Farmers Dating Site Safe?
Like any dating service, Farmers Dating Site wants to provide a secure environment to its members. That is why there are certain measures in place. First of all, you can look and research Privacy Policy, so you get acquainted with protection steps. You can then refer to the separate section with safety tips. Finally, if you have noticed any suspicious activity, you must let the support representatives know about it.
Is Farmers Dating Site a Real Dating Service?
Farmers Dating Site has been in the business since 2011. Its developer, Dating Media Group, has created a wide range of other successful online dating services: Christianlifestyle, Fitnessdates, Interracialromance, among many others. Users of various backgrounds join these platforms. If you love the countryside, are single, and wish to find a life-long partner, join this community and meet your love!
How to Use Farmers Dating Site?
Once you choose Farmers Dating Site to meet people with the same way of living, you should visit the homepage to sign up at https://www.farmersdatingsite.com. The following steps are pretty straightforward: select the preferred gender. There are four options: male seeking male, male seeking woman, female seeking female, and female seeking male. Step two is specifying your age. Next, select your country and the closest city. Step four is your valid email address, which remains confidential. Accept the terms of use. Step five is where you have to pick your username. Finally, confirm your email by clicking on the link. The Farmers Dating Site system will redirect you to the homepage, and you are good to go.
Is Farmers Dating Site Free?
The basic features of Farmers Dating Site are free of charge. If you are a standard member, you can create your profile and upload pictures. Besides, you can forward ten flirts to ten various users. There is an option of searching for a match or someone you may like and meet in your location. You can enjoy these services without spending a cent. Nevertheless, once you want to upgrade your account, you will have to pay for it.
Does Farmers Dating Site Really Work?
Farmers Dating Site seems to be the top-level dating platform in a particular niche, catering to the needs of people who call themselves country folks, farmers, and cowboys. The number of women slightly prevails. Members are active, especially in the evening. The number of scam profiles is very small. The community is easy-going and willing to meet and interact with each other. The website has an impressive variety of features to help you find a perfect match who shares your lifestyle and interests. Besides, to make the most out of using Farmers Dating Site, consider going premium so that it greatly simplifies the process of communication.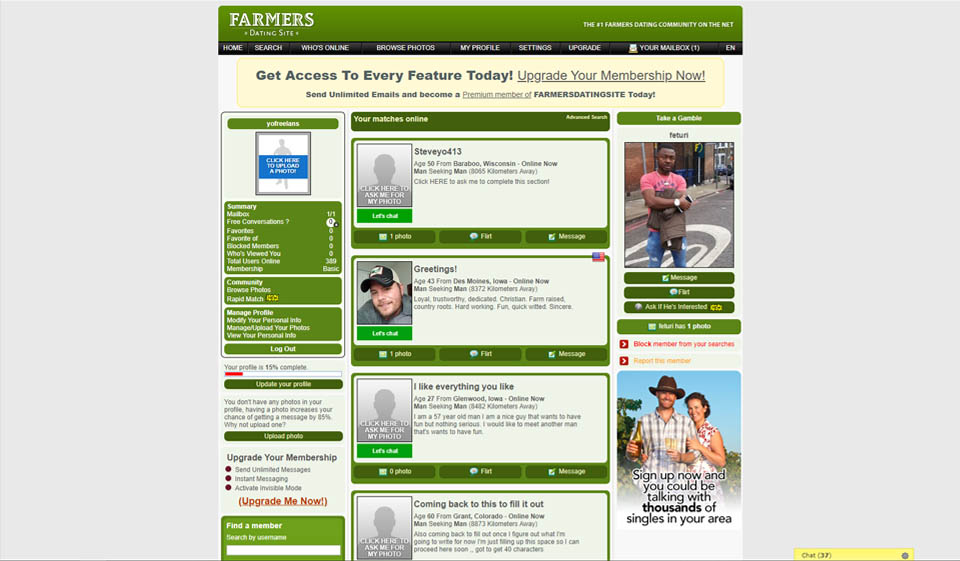 Conclusion
Farmers Dating Site is an excellent platform to encounter single farmers. The site has some great features, nicely designed, and highly functional. You should give it a try if you are interested in a country lifestyle. Overall, it helps to make friends with many people from Canada and America. Keep in mind that this place is extremely user-friendly, with many services to help you meet a perfect partner who is interested in farming as well. Yet, some users may not like the simple interface and absence of a mobile app. Farmers Dating Site is one of the fastest-growing online-dating services from all over the world. The developers strive to provide a unique concept unmatched in this niche. The matching algorithm is a one-of-a-kind system that helps to gather a broad audience that consists of those interested in meeting rural singles, farmers, and country boys or girls. Thoroughly developed database of Farmers Dating Site will help you find your life partner in no time!